Kildare Town Community Garden continues to flourish, with 26 active members, including several Cill Dara tenants, ranging from 12 to 90 years of age.
Formed in November 2018 the garden has grown to become a welcoming, inclusive space with a focus on community, diversity, connection, and social inclusion through a share interest in flora and fauna.
The community garden is as much a social space as a community garden, and as some of the members live alone it has become a great space to enjoy being outdoors, learn about nature and meet people. Members enjoy calling in for a chat and a cup of tea while admiring the beauty and nature in the garden and getting involved no matter now green fingered or not. New members are always welcome.
The garden includes outdoor raised beds and a polytunnel where a variety of fruit and vegetables are grown each season without the use of pesticides or weed killers and produce is shared with members and the wider community.
Over the years the group has created an orchard with Irish heritage apple trees, a pear, a plum and a cherry tree, and have espalier – an ancient agricultural practice of controlling woody plant growth to produce fruit, by pruning and tying branches to a frame – growing along a sunny wall.
A wide range of wildlife are frequent visitors to the garden and enjoy the nature pond with a beautiful water lily in the centre which is alive with insects & birds.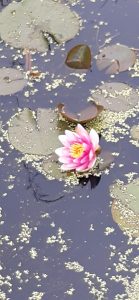 Over the years the community garden has hosted various events including summer barbecues, apple pressing, seed saving, a women's wellness day, horticultural courses, willow weaving, foraging and herbal medicine classes to name a few.
One of the community garden members who is 84 years old said:  "The community garden is a beautiful, peaceful space full of the sounds of nature with beautiful flowers which lifts your spirits, and you forget your troubles as you walk around it".
The community garden is located on Campion Crescent in Kildare Town and is supported by its partners Cill Dara Housing Association, Kildare County Council, County Kildare Heritage Office, Kildare Credit Union, the Lions Club, Tesco & REACH funding from the Kildare and Wicklow Education and Training Board.
More information can be found at www.facebook.com/kcgkildare or by contacting Sheila on 087 676 1014.